What's On

Tapas
Choose any 3 Tapas for $35 or any 2 for $25
everyday between 4-6pm
SPANISH STYLE MEATBALLS (GFA) | RATATOUILLE (V) | PETITE SPANISH PIZZA | SALT & PEPPER CALAMARI (GF) | PISTACHIO & LEMON ARANCINI (V) | SZECHUAN SPICED BARBECUED PRAWNS (GFA)| CRUMBED CAMEMBERT WHEEL (V) | MARINATED LAMB FILLET SKEWERS (GFA) | NEW ZEALAND GREENSHELL MUSSELS (DOZ) (GFA)
*Boards, Selection of Cheeses and Seared Scallops not included, terms and conditions apply (ask in restaurant for details)

Join us for a night of fun, laughter, great food and prizes, all for a good cause!
Sadly brain cancer is the single biggest killer of people under 40 in Australia and it is destroying Australian families. Brain cancer is also the biggest killer of children in this country and yet it receives minimal funding.
This has GOT to change which is why in support of Beanies for Brain Cancer and in conjunction with Travel Managers, Elysium Restaurant & Bar is hosting a cocktail party where $10 from each ticket sold will go to the Beanies for Brain Cancer Fund.
When | Friday, 28th June | 7:30pm-10:30pm
Ticket Price | $75
What's Included | 3 hour package of wine, beer and soft drinks plus delicious canapés served throughout the evening. You'll also receive a ticket in our lucky door prize and the opportunity to win amazing prizes in our raffles and silent auctions throughout the evening.
You'll also enjoy live music by MUSIQUE during the evening.
Don't forget to wear your beanie and show your support to this wonderful cause.
---
Tapas
Choose any 3 Tapas for $35 or any 2 for $25 everyday between 4-6pm
SPANISH STYLE MEATBALLS (GFA) | RATATOUILLE (V) | PETITE SPANISH PIZZA | SALT & PEPPER CALAMARI (GF) | PISTACHIO & LEMON ARANCINI (V) | SZECHUAN SPICED BARBECUED PRAWNS (GFA)| CRUMBED CAMEMBERT WHEEL (V) | MARINATED LAMB FILLET SKEWERS (GFA) | NEW ZEALAND GREENSHELL MUSSELS (DOZ) (GFA)
*Boards, Selection of Cheeses and Seared Scallops not included, terms and conditions apply (ask in restaurant for details)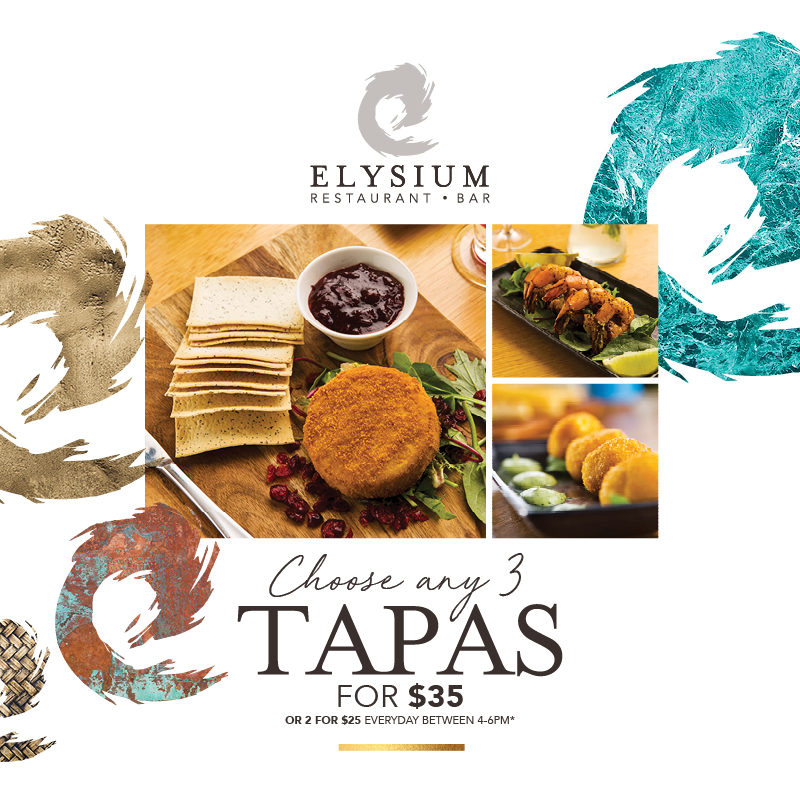 ---
Thursday's – $22 Steak Night
Our delicious 250g Rump Steak cooked just the way you like it plus a house beverage of your choice.  Choose from red or white wine, champagne, Elysium Gold, any light beer or soft drink.
*terms and conditions apply (ask in restaurant for details)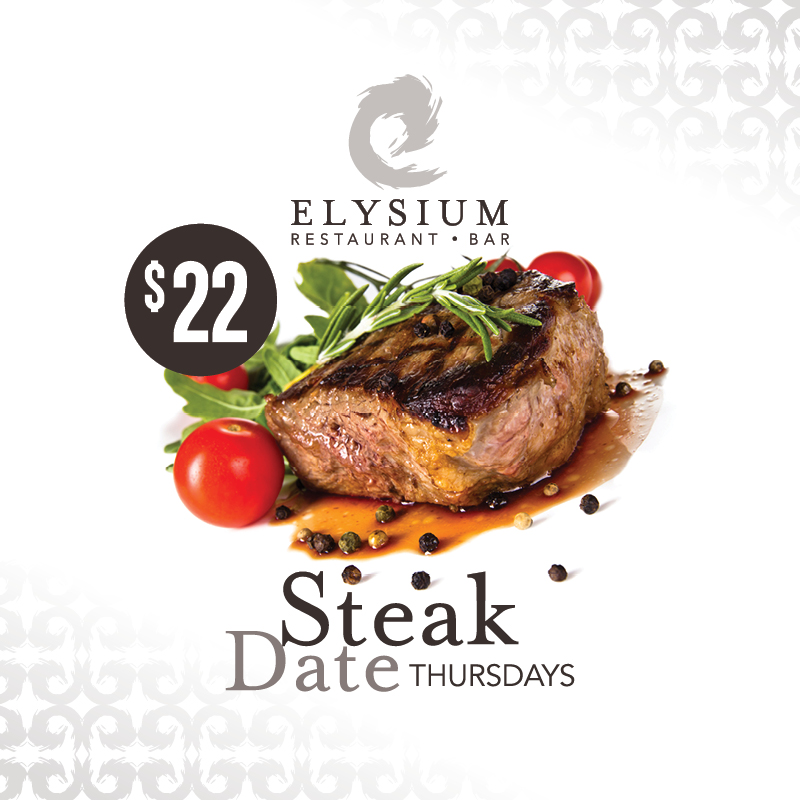 ---